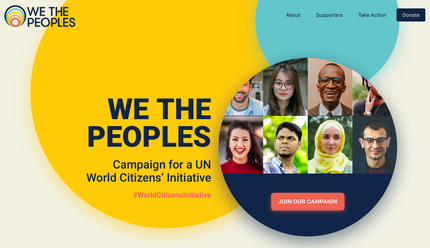 World Citizens' Initiative
How to support from home
In our efforts to physically distance ourselves from each other in order to help slow down the coronavirus pandemic and to be mindful of those vulnerable in our communities, we can't help but imagine that in times like these, humanity and the public good would benefit from the opportunity for citizens to demonstrate global solidarity and action. Action, which can be taken across borders digitally and which influences the international agenda at the highest political level of the UN. 
That's why we urgently need a UN World Citizens' Initiative (UNWCI). A tool which provides the digital and legal infrastructure for global citizens to organise, be proactive, and make proposals to the UN on issues of global importance.
We hope the increased support for global solidarity gives our campaign a push. For this we need your help, and from the comfort of your home, here's how you can support the campaign:
Share this blog post with your network, friends, and colleagues!
Share it on social media using  the campaign's hashtag #WorldCitizensInitiative: In times like these we need global solidarity more than ever. The instrument of a #WorldCitizensInitiative would connect people digitally across borders & let them suggest proposals on global issues to the UN. Check out the new website & join the campaign! https://www.worldcitizensinitiative.org 
The campaign needs your vote! Endorse the UNWCI by clicking here.
The coronavirus pandemic proves how interconnected and vulnerable we are. It has also exposed weaknesses in global collaboration and support across borders and in finding swift solutions. Let's come together and strengthen the campaign for a digital tool of transnational participatory democracy.
It's time to give citizens a voice at the United Nations!
(Repost of last Campaign for a UN World Citizens' Initiative article)